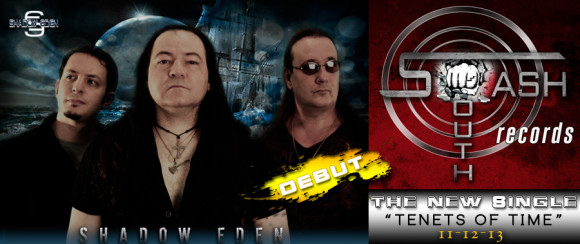 Forged by incorporating progressive, rock, metal, fusion, and jazz stylings, **SONY RED / SMASH-MOUTH RECORDS ** Recording Artist Shadow Eden delivers well crafted, listenable songs which feature virtuoso performances designed to please the ear of musicians and music lovers alike. The rest of the story is best told however, through the words and deeds of others:
SMASH-MOUTH RECORDS SIGNS SHADOW EDEN TO DISTRIBUTION DEAL
The upcoming release from the band Shadow Eden titled "Perpetual Motion" will be distributed on Smash-Mouth Records in conjunction with Sony Red. Smash Mouth Records is an indie label with a major attitude. Smash-Mouth Records is an all inclusive company that brings all things necessary for our bands under one roof, offering services never found within a typical label.
"We are both excited and honored to be signed to this label, the culmination of which will result in our music being distributed to the masses," States the band, "The knowledge, experience and professionalism of the Smash-Mouth Records staff together with the musical prowess of Shadow Eden will no doubt result in a milestone for the band and a watershed for the progressive metal genre."
SHADOW EDEN RELEASE NEW SINGLE 
"The Tenets of Time" is the first new single from Shadow Eden since 2010, part of their upcoming release on SmashMouth Records/ Sony Red.  The culmination of three years of touring, countless rehearsals, musical pedigree along with the steady hand of DCity Studios Don Chaffin have led to this moment……behold !!!!!!